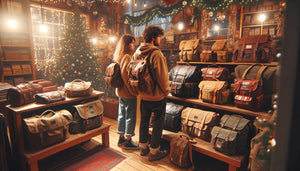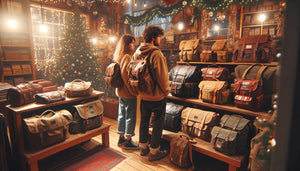 Treat your loved ones with colorful & timeless packs
Canvas Backpacks & Canvas Rucksacks
Eco Friendly Bag
Looking for a Vegan Bag?
Discover "Canggu", a 100% vegan alternative, made from wood pulp. Curious, take a look!
Discover now
Make a sustainable statement
Sustainable Backpacks
Adventure Awaits!
Welcome home adventurer! Here, what matters is not pure achievements but a sense of authenticity & community, a feeling of belonging to something bigger than ourselves, a love of travel, discovery and sharing.

We strive to offer a wide range of quality handmade outdoor gears (namely backpacks, weekend bags but also shoulder bags,) so that you have the all the gears you need to explore your world with peace of mind.

You appreciate natural colors, trendy retro designs and quality accessories , so do we! Now it's up to you to find the travel companion that best suits you to accompany you in your everyday life, or in your expeditions in mother nature's heart.
Opt For A Reliable & Stylish Companion
For too long we have been satisfied with average quality products because they were affordable. They follow and resemble each other, one after the other, without ever bringing color, style, comfort or security to your daily life.

A vintage bag is more than just a fashion accessory. It carries our most precious belongings and follows us everywhere, in any condition. It endures life's journeys by our side and evolves over time, just like us, so why not choose a bag that truly represents us?

We made a clear choice: to offer a refined and original selection of quality and colorful daypacks, designed to last and made of noble and natural materials.

These bags are all yours! Whether you are a man, a woman, a young teenager or a more experienced backpacker, a lover of vintage accessories or an adventurer in search of exploration. Embark on your next adventure today and choose a vintage style bag that's as unique as you are.
TO WORK OR STUDY IN STYLE
Canvas Messenger Bags and Canvas Shoulder Bags
STAND OUT FROM THE CROWD
Add a Timeless Style to your Outfit
The rugged canvas material and classic leather accents create a unique look that will never go out of style. The backpacks' neutral color options and sleek designs make it a versatile accessory that complements any outfit.
travel the world in style
Canvas Duffle Bags, Weekend Bags & Overnight Bags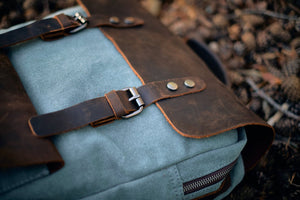 Sturdy & Natural
Materials.
Opt for a reliable travel partner
We also offer Sturdy & Vintage Leather Bags
For lovers of full grain leather and retro objects, we offer a wide range of leather bags, as strong as stylish, with a unique and timeless charm
Leather Backpacks
Discover a unique & refined selection of vintage & sturdy leather backpacks for adventurous men & women. Crafted with care in full grain leather, this bags are built to last and to follow you in all your adventures.
Visit Collection
Leather Shoulder Bags
Discover our selection of vintage leather shoulder bags, designed to meet the needs of modern life while bringing a classy and retro touch to your outfits. Functional and minimalist, they are suitable for both men and women.
Visit Collection
Leather Duffle Bags
A shape, a smell, a memory... our collection of leather travel bags transports you back in time & offers you what the modern adventurer is looking for: practicality, solidity, reliability while bringing a unique touch to your style.
Visit Collection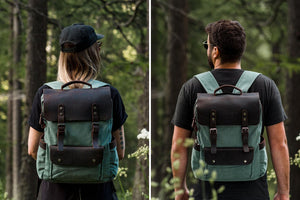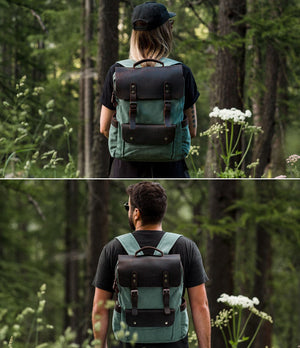 Let customers speak for us
Ready to Embark?
It's up to you to answer it by choosing your future daily ally. Click the button below to browse our varied collection and choose the one that best suits your style, needs and personality.
We offer a free shipping option, secured payment methods and a 14-day money-back guarantee, so you can shop with confidence.
Join the our growing family of adventurers by getting your vintage backpack now!
Sturdy & Weatherproof
Cotton canvas, premium cowhide leather and brass hardware protect your valuables on a daily basis, and give you an incredible look. What else?
Functional & Tech-Friendly
Padded laptop sleeve, numerous internal and external storage, anti-theft back pocket : you can roam with a light mind.
Comfy & Versatile
Lightweight and roomy backpacks ideal for outdoor activities or for daily use, whether you're a wanderer, a student or a professional.