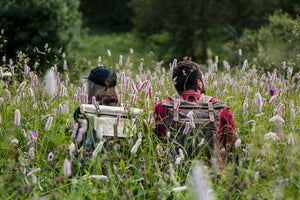 THE ADVENTURE BEGINS HERE
born from a love affair with Nature
Ready to Embark on your Next Adventure?
Globe-trotters, explorers and nature lovers or simple holiday-makers, the entire EIKEN team welcomes you aboard.
That's it, you're there. You close the door and you are in search of adventures, exposed to the world and its elements. The movement is underway, nothing can stop you now. You may not know where you are going, why or how, but you know what you bring with you. 
At Eiken, our mission is to design what connects you to your place and destination, to have a little bit of home away from home. We offer leather & canvas bags that are versatile, durable and timeless, combining utility and style to allow you to transition from workday to weekend with ease.
Our most important mission is to allow you to focus on what lies ahead, not what's on your back. 
STAND OUT FROM THE CROWD
Add a Timeless Style to your Outfit
The rugged canvas material and classic leather accents create a unique look that will never go out of style. The backpacks' neutral color options and sleek designs make it a versatile accessory that complements any outfit.
EIKEN's Philosophy
Nature as a Providing Ground
EIKEN is born from a love affair with Nature. We're inspired by the verdant landscape, the history, the culture and the wildlife.
But nature, and more precisely the French Alps, is our true home. We therefore aim at providing robust & trendy travel equipment made with noble materials and designed to last.
who are we?
A Passionated Team of Adventurers
We are like you, nature & adventure lovers. Having grown up in the heart of the French Alps, from a very young age we have been passionate about the beautiful landscapes that surround us.
Travellers in our spare time, we decided to go on a road trip altogether in 2014. Not very well equipped, we were looking for a good e-commerce site that offers travel products combining quality, style and reasonable prices.
We didn't find much we liked that would fit our needs. Since 2015 we have therefore decided to launch EIKEN to offer you a curated selection of travel accessories that will be useful, timeless and of premium quality.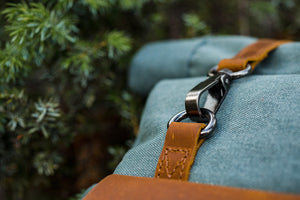 Brass hardware that withstand the test of time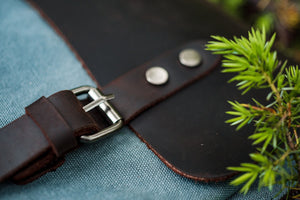 develop a beautiful patina with age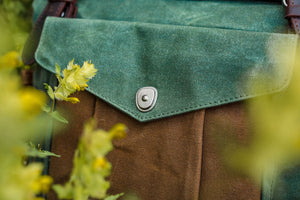 Weatherproof Waxed Canvas
Travel safely whatever the conditions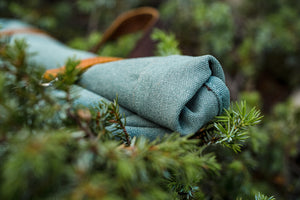 Smart & expandable storages for your daily needs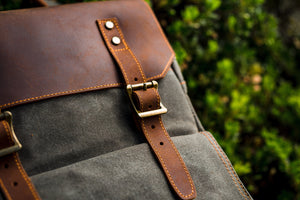 Access your Stuff in Seconds
Magnetic clips to keep your essentials at hand
A Curated Selection of Vintage, Robust & Reliable Travel Bags
Eiken stays committed towards making sure you travel with the best travel equipment crafted with the most noble and robust materials available.
Dedicated towards creating classic pieces that offer no compromise on quality, we handpick the best materials from all around the world. Our products are made of woven cotton canvas and crazy horse leather, a oil immersed full grain leather with a unique touch that beautifully gets patinated with age.
Whether it is a short day-trip to nearby vicinity, your daily commute to the workplace, we features a variety of timeless bags catering to your custom needs. As a team of globetrotters in love with the wilderness, we took inspiration from nature itself. Creating unmatched travel bags that reflected the rustic charm of the wild and class of the urbane was our main goal. With the ability to transition from workday to weekend, Eiken travel bags blend convenience with style!
The magic lies behind choosing a bag that lets you focus on creating memories and looking ahead; not worrying about the weight you carry on your shoulders.
24/7 Support & assistance
A Dedicated Customer Care
Because we know that it is difficult to trust an e-Commerce site we don't know, The entire EIKEN team has shaken its brains to gather all the questions you may have on our FAQ page.
Clémence & Leo being anxious not to have put you completely at ease and in confidence will be happy to answer your questions via the contact form.
Don't take our word for it
★★★★★

I cannot be more happy with item. The price is really really fair and the quality is very good. The color is also just as displayed on the picture. I think for such a price, this is really a good buy. I was a bit worried looking at some of the pictures, but when I received the item, I am like : cool!
★★★★★

The backback is just as expected. It is of very high quality and the leather is absolutely phenomenal
★★★★★

A good quality canvas back that has proven to be very versatile. The bag was packaged and sent securely. I received adequate notifications regarding the shipping and tracking status. I presently use it to take to work and will be using it also for light travel needs.
★★★★★

Beautiful bag of very high quality. Also customer service has been extraodinarily eager to help with anything as well as just generally imrpove the experience
★★★★★

I've been looking for the perfect canvas backpack for ages is feels like and I think I've finally found it! It's roomy (fits my 15,6 inch laptop along with packing for a weekend away), it's sturdy, it's comfortable to carry and it's absolutely gorgeous and will look great with almost any outfit. All in all I'm super happy with my new bag and judging by the look and feel of its quality it'll go on adventures with me for many years to come!
★★★★★

The Reykjavik model is a really pretty bag, with a nice shape and look.

I use it as a school and travel bag, it has a lot of room in it and can fit even more when you don't lock the 2 straps. I can fit my 15.6" computer in the dedicated pocket. I like the zipped pocket in the back and the huge front pocket, they are really useful. I'm very satisfied whith my purchase !
★★★★★

Big and strong backpack perfect for adventures (I've brought it to the mountains) but also for school or university. Pc fits in. A reusable water bottle and a small umbrella fit on the sides. Pockets are comfortable too. Highly recommended!
★★★★★

This Reykjavik bag is very stylish and useful. We took two Reykjaviks on a trip to Asia and we were really happy with our bags. The bags were practical and firm. I love all the pockets and the beautiful design.
★★★★★

I'm very very satisfied !! The Rucksack travel with me now everywhere and the shipping to Germany was fluid. Thank you :)
Still Here?
We hope we have enlightened you about who we are and our ambitions, we wish you an excellent journey on our website. And of course, don't hesitate to contact us if you have any questions at info[at]eikenshop(dot)com or by using the contact form on the site.
Thank you for taking the time to know who we are. To thank you for making this effort, know that we offer you an additional 15% on all your order with the code HISTORY15, available exclusively for the readers of this page.