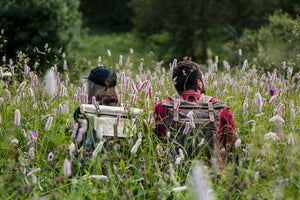 Explore Our Collection of Quality Vintage Bags
The Perfect Blend of Fashion and Functionality
Rediscover the Charm of Bygone Eras
Vintage fashion is not just about style; it's about embracing an era that celebrated unique designs, superior craftsmanship, and enduring quality. At our store, we bring you a handpicked selection of vintage bags that perfectly encapsulates this timeless appeal.
Whether you're looking for the rugged charm of a traditional backpack, the traveling grace of a retro duffle bag, or the professional yet casual elegance of a antique messenger bag, we've got you covered.
Our mission is to offer you a taste of the past through our meticulously sourced and carefully curated old-school bags. Each piece in our collection not only adds a distinctive touch to your ensemble but also carries a fragment of history that is bound to inspire.
Browse our collection today and find a ageless bag that speaks to your unique style and resonates with your love for timeless fashion.
Vintage Backpacks for Everyday Style
Discover the timeless appeal of our vintage backpacks, an ideal blend of style and function. These backpacks, curated from genuine rustic materials, bring forth the charm of yesteryears, combined with the practicality of modern design.
Every piece narrates a unique story, each reflecting an era known for its unmatched fashion sensibilities. Perfect for work, travel, or just a casual day out, our heavy-duty backpacks fit effortlessly into every lifestyle. Pair them with your favorite outfit and create a style statement that's truly your own!
Durable Vintage Duffle Bags for Your Travel Needs
Travel in style with our classic range of vintage duffle bags. These bags embody a sense of timeless elegance, merging the past's aesthetic with the present's convenience. Each duffle bag, handpicked for its authentic allure, showcases the superior craftsmanship and enduring quality of bygone times.
Ideal for both short getaways and long journeys, our classic duffle bags provide ample space without compromising on style. Durable, practical, and extraordinarily stylish, these bags are designed for those who appreciate the charm of ageless fashion.
Classic Vintage Messenger Bags for Professional and Casual Use
Experience classic elegance with our exclusive range of vintage messenger bags. Epitomizing a classic style that transcends passing trends, these bags are the perfect accessory for both professional and casual settings.
Each messenger bag, sourced from authentic prime collections, reflects the rich history and fine artistry of past eras. With plenty of room for all your essentials, these bags combine style, utility, and comfort. Stand out from the crowd and bring a touch of true elegance to your everyday ensemble with our old-school messenger bags.
Cotton Canvas: Comfort and Durability
Durable and lightweight, cotton canvas is a classic material used in bag making. Whether it's waxed for added strength and water resistance or left in its natural state for a softer feel, our canvas vintage bags offer unmatched durability.
The high tensile strength of the canvas ensures it can handle the weight of your daily necessities, while its breathability keeps contents fresh. With a vintage bag made from cotton canvas, you'll experience a perfect balance of comfort and resilience
Crazy Horse Leather: Timeless Elegance and Strength
Crazy Horse Leather, known for its durability and unique appearance, is a standout choice for vintage bags. This type of leather undergoes a special treatment process to give it an antique appearance, which adds to the vintage charm of our bags.
Over time, Crazy Horse Leather develops a rich patina that enhances its aesthetic appeal. The sturdy nature of this leather means your vintage bag can withstand daily wear and tear while maintaining its timeless elegance. With a Crazy Horse Leather vintage bag, you're investing in a product that grows in character and beauty with use.
Authentic Vintage Bags – Don't Just Take Our Word for It
★★★★★

I cannot be more happy with item. The price is really really fair and the quality is very good. The color is also just as displayed on the picture. I think for such a price, this is really a good buy. I was a bit worried looking at some of the pictures, but when I received the item, I am like : cool!
★★★★★

The backback is just as expected. It is of very high quality and the leather is absolutely phenomenal
★★★★★

A good quality canvas back that has proven to be very versatile. The bag was packaged and sent securely. I received adequate notifications regarding the shipping and tracking status. I presently use it to take to work and will be using it also for light travel needs.
★★★★★

Beautiful bag of very high quality. Also customer service has been extraodinarily eager to help with anything as well as just generally imrpove the experience
★★★★★

I've been looking for the perfect canvas backpack for ages is feels like and I think I've finally found it! It's roomy (fits my 15,6 inch laptop along with packing for a weekend away), it's sturdy, it's comfortable to carry and it's absolutely gorgeous and will look great with almost any outfit. All in all I'm super happy with my new bag and judging by the look and feel of its quality it'll go on adventures with me for many years to come!
★★★★★

The Reykjavik model is a really pretty bag, with a nice shape and look.
I use it as a school and travel bag, it has a lot of room in it and can fit even more when you don't lock the 2 straps. I can fit my 15.6" computer in the dedicated pocket. I like the zipped pocket in the back and the huge front pocket, they are really useful. I'm very satisfied whith my purchase !
★★★★★

Big and strong backpack perfect for adventures (I've brought it to the mountains) but also for school or university. Pc fits in. A reusable water bottle and a small umbrella fit on the sides. Pockets are comfortable too. Highly recommended!
★★★★★

This Reykjavik bag is very stylish and useful. We took two Reykjaviks on a trip to Asia and we were really happy with our bags. The bags were practical and firm. I love all the pockets and the beautiful design.
It would definitely order again!
★★★★★

I'm very very satisfied !! The Rucksack travel with me now everywhere and the shipping to Germany was fluid. Thank you :)
6 Reasons to Upgrade Your Daily Life with Our Vintage Bags
1. Stand Out from the Crowd
Embrace the charm of our bags and showcase your unique style. With their timeless appeal and unique history, you'll be making a statement wherever you go.
2. Invest in Durability
Don't waste money on bags that wear out quickly. Our bags, crafted from high-quality materials, are built to last, offering you long-term value for your investment.
3. Be Uniquely You
With our bags, you're not just carrying a bag; you're expressing your individuality. Each of our bags has its own character and story, allowing you to truly showcase your personal style
4. Be Prepared for Any Occasion
Whether you're headed to work, out on a casual outing, or jetting off on a trip, travel with confidence knowing you have a bag that suits all occasions. Our versatile range of bags ensures you're always prepared.
5. Choose Sustainability
Make an eco-friendly choice without compromising style. By choosing our bags, you're actively reducing waste and contributing to a more sustainable lifestyle.
6. Make a Wise Investment
Secure your fashion future. Our bags not only serve as unique fashion accessories but also hold their value over time, making them a wise fashion investment.
We sell a diverse range of vintage bags including vintage backpacks, vintage duffle bags, and vintage messenger bags.
Each category offers a variety of styles and sizes to suit your individual needs.
Our vintage bags are crafted from a variety of high-quality materials including crazy horse leather, canvas, and waxed canvas.
Each material adds a unique touch to the vintage aesthetic of our bags.
To maintain the longevity and style of your vintage bag, it's essential to clean and store them properly.
We recommend using a soft, damp cloth for regular cleaning.
For specific care instructions, please refer to the individual product page.
Yes, many of our vintage backpacks come with padded compartments designed to protect your laptop (from 13" to 15.6") and other electronics.
Be sure to check the bag's specifications for the maximum laptop size.
Our vintage duffle bags are spacious enough to accommodate your essentials for a weekend trip or even longer journeys.
Specific capacity details can be found on each product page.
While our vintage messenger bags are designed to resist light rain and moisture, they are not fully waterproof.
We recommend taking extra precautions during heavy rainfall or similar conditions.
You can check the availability of our vintage bags directly on the product page.
If an item is out of stock, you'll have an option to be notified when it becomes available again.
If you're not satisfied with your vintage bag, you can return it within 14 days of purchase. Please refer to our Return Policy for more information.
Yes, we ship our vintage backpacks, duffle bags, and messenger bags worldwide. Shipping fees may vary based on your location.
We occasionally offer promotional discounts to our new customers.
Be sure to subscribe to our newsletter to stay updated on our latest offers on vintage bags.