How to Pack a Camping Backpack Effortlessly [Ultimate Guide]
The way you pack your camping backpack will have an overall impact on your camping trip. Pack it right, and you will enjoy your journey. If you pack your bag in an unorganized manner, your trip will be utterly stressful.
In order not to turn a trip planned to be enjoyed into a nightmare, packing your backpack is one of the first things to plan out - after planning your camping itinerary.
How do you pack a backpack to make it look like you are not carrying a whole lot on your back? This is the big question. Luckily for you, we have created this guide to help anyone going out on a camping trip with a backpack.
Before delving into the meaty stuff of the guide, let's take a look at a quick summary of packing successfully.
A Summary on How to Pack a Camping Backpack:
I. Make a Checklist of Items to Bring
Have you decided on what and what not to bring? The checklist phase lets you stay organized. Ideally, you want to create a backpack camping checklist of what you intend to use on your trip.
If you are going on your trip in a group, you can share the checklist within your group. Send it to one another before starting your journey. By doing this, you will be reminding each other of items to bring that you otherwise would never have thought about.


1. Some Basic Items to Include in your Checklist:
Your camping backpack: This goes without saying, you need a backpack. If you don't already have one, your backpack is the first item on the list.
Go shopping, check online, read reviews, and get yourself a good camping bag that will take care of your trip needs.
To buy a good one, make sure that the backpack you decide to go for:
Is spacious.
Is the perfect fit for your body.
Weighs very little.
Can protect your items.
Gears: Consider your gears needed for the trip next. Anything that will make your life easier on your journey is your gear. This must be included on the list.
Food and Shelter: This probably should be the first on the list, but many people do not forget food and shelter, because of how essential they are. Pack foods that are not only light when you carry them, but are also light on your body after eating them.
Eating healthy and light is very crucial to make your trip energetic and free from any form of sickness.
Shelter is also a necessity and should be included. Your tent and other items that will make your stay in camp safe and comfortable should be included in the list.
Part of being prepared is to get ready to be wet when it rains. So pack a raincoat or just about anything light that can protect you from heavy rainfalls. Another way of being prepared for the rain is to buy a waterproof backpack.
Safety and First Aid kit: It is always good to prepare for safety. A first aid kit is needed when you are camping out. Just in case anything goes wrong, you would want to provide first aid treatment.
You don't need a whole kit that takes too much space. A small pack of first-aid treatment essentials should be enough for your trip. Plasters, bandages, disposable hand gloves, antibiotic ointment, etc. should be on your list.
For an in-depth guide on a checklist for camping, we have created a more detailed guide for you here.
Changing clothes: Changing clothes should be on your checklist. The amount of changing clothes depends on how long you would be staying on your trip. You need to think about this carefully.
Taking too many clothes translates to wasted space. Also, taking too little clothes means you will be changing less often. You don't want to stink among your peers. You need to strike the perfect balance with the amounts of clothes you take with you.
2. Other Helpful Supplies to Bring Along:
1. Bring entertainment: As a camper, you are most likely going to unwind, leaving the bustling city life behind. What better way to relax than to bring entertainment along your camping trip?
You can take board games, sports gears that are light and easy to carry along. This will keep you and other campers busy at your campsite.


2. Carry navigational items: If you are camping at an area that you are unfamiliar with, navigational items are essential.
Remember, the area you will find yourself can be remote, and your phone's GPS and navigation apps might not be functional. So, you can bring a GPS and a compass.


3. Bring food and water: It's almost certain no one forgets this while going camping, but we just had to include it on the list. Don't go with very little food and water.
It's possible that you stay longer than planned, and if you can carry enough food and water, it will take you through extra time.


4.  Pick a suitable sleeping bag and tent: Tents and sleeping bags aren't created equally. They come in different designs to suit the user.
Before you set out on your trip, know the weather conditions of where you are camping. This will help you to select the perfect type of tents and sleeping bag
For instance, there are tents for summer and winter, Depending on the season your trip falls in, pick the appropriate backpack with tent and sleeping bag for that season.
II. Cutting Down Excess Load
Carrying excess load is something that should constantly be emphasized on. Because the amount of load will determine how much you enjoy or regret your journey. We do not want an excessively big camping bag.
Imagine having to carry an excess load at your back while climbing a hilly or rocky path on your way to your camping trip. The horror is better left imagined.
After creating your checklist, you now have all the things you need and those to be left out. From your list, call out each item or have someone call them out to you item after item.
As the items are being called out, simultaneously bring those items one after the other. A good way to stay organized while doing this is to spread the items in an open space.
It will be very difficult to leave an item behind when you spread them out. You can easily skim through your checklist and cross-check the items. 
Ask yourself some questions to help you cut down your load. For example, will there be an opportunity to wash your clothes during your trip?
If there will be an opportunity, then it's best to cut down on clothing. Will you be going down into a rocky area? Take lighter boots, and dump heavy trousers.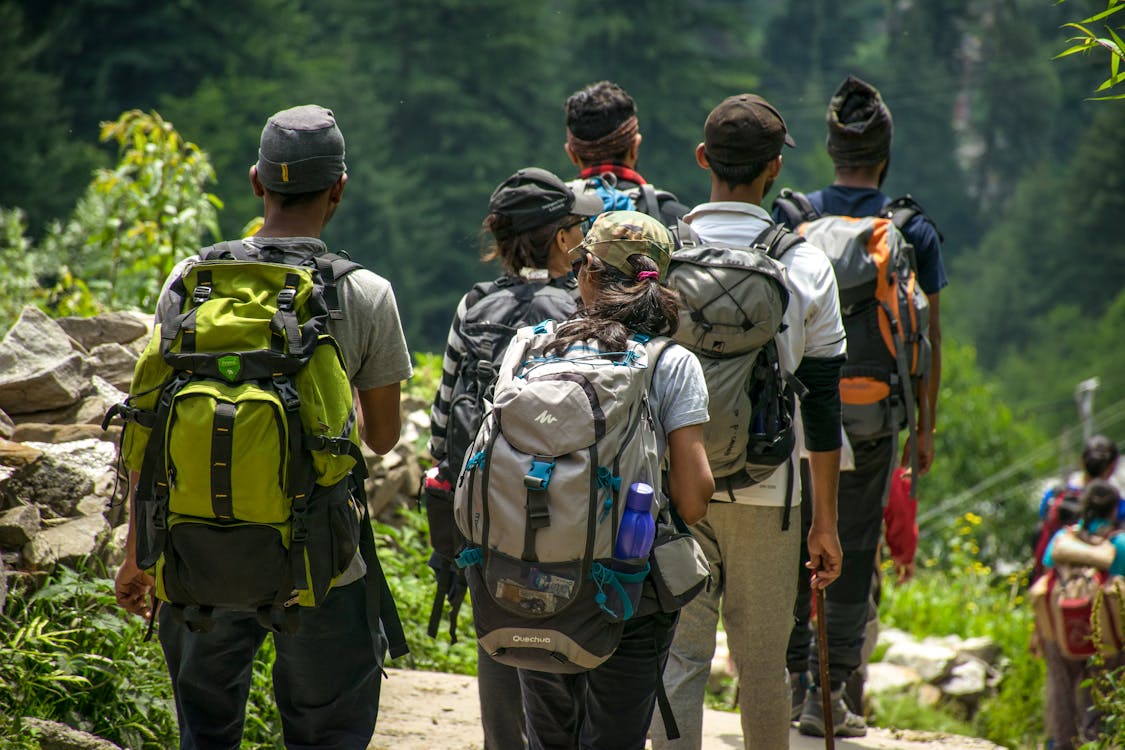 III. Before Packing your Camping Backpack - Planning it out
A pleasant camping experience starts with planning. Just like you would plan your trip, you should also plan packing your camping bag. When you have it all planned out, you save time, and the chances of leaving an item behind are reduced.


1. Divide your Camping Backpack into Sections
The best way to pack a camping bag is to divide your backpack into storage sections. This allows you to decide what goes where and create an even distribution of load across your backpack.
We have outlined a sectional arrangement that would fit any style of camping rucksack.


Section 1 - The Camping Backpack Floor Area
The first section we will cover is the backpack floor. This is the bottom layer of your backpack when you open it. In this section, the first items you are taking with you goes here.
Items to put in this section
Lightweight items for a cushioning effect
Items you won't need frequently.
Changing clothes
Pro tip: Pack items that you don't plan to use frequently in this section. This will keep everything organized as you won't need to dig too deep to get your most used items.


Section 2 - The Camping Backpack Middle Area
In this section, you want to include items that are heavy and take a lot of space. Your food flask, gears, and tents should be in this section. By putting large-sized items at this section, you will create an even distribution of the weight around your back and shoulders.
Pro tip: Don't overpack this section so that you don't defeat the purpose of creating an equal distribution of weight


Section 3 - The Camping Backpack Top Area
This is the upper part of your camping bag's large opening. It is expected to put lighter items here also, in order to distribute the load to the middle of your backpack.
If you have been wondering why you need to keep the heavier items at the middle, and the lighter items at the top and bottom, here's why:
When you fill your backpack with heavy items at the top and bottom layer, you will be creating a directional load distribution. Pack the top or bottom section with heavy items, and your backpack will pull you when you mount your backpack.
The best way to avoid this is to distribute the load evenly for the sectional structure we have discussed
Pro tip: Put items that you are likely to use while on your trip at the top section of your backpack.


Section 4 - The Accessories
The last section is the accessories space that comes with your backpack. However, this depends on the design of the backpack you own. In this accessories section, pack your smaller items into them.
Your toothbrush, bathing soaps, flashlight, and all other handy items should be put into the accessories compartment.
Pro tip: Wrap other items around your accessories section by tying them around your backpack. This will allow you to carry extra items like additional clothing that can be wrapped around your bag. You can also fold your mat and wrap it with a rope around your backpack.


2. Nest in Your Items in Your Camping Backpack
Nesting your items into one another will allow you to even save more space. To do this, you should get smaller items and gather them into a plastic pack. This will keep every item organized, easy to pick, and return them back to their places.
For example, you can pack items like your bathing soaps, toothpaste, and other toiletries into a single plastic pack. Nesting items together can also be a very effective way of protecting your fragile items.
You can place fragile items into the different openings of other items. For instance, your music player, or even your smartphone can go inside one of your shoes that is inside your camping rucksack.
IV. Bringing it Altogether
If you have made it to the stage following the steps we have outlined, you are close to rounding up. Since you have stayed organized by creating a checklist, dividing your camping bag into sections, and reducing excess load.
It is now time to bring everything together.
Here are some helpful pointers to bring everything together into your backpack:


1. Compress your Camping Backpack
When you are all set, put everything into your camping bag and compress them together. Careful though, you don't want to break anything.
To compress properly, start by pressing the bottom layer of your camping rucksack. Since this is the section with soft and light items, it should be very easy to compress.
After compressing the bottom layer, put the items that belong to the second section; these are the heavier items. In this section, do not compress yet. Follow up by adding the items that belong to the top layer.
Items at the top player are also expected to take in some light items. You can press lightly from the top without making it affect the other sections. By compressing, you will be able to create even more space. This brings us to our next point, filling in the extra spaces.


2. Fill in extra space
Now that you have everything organized and compressed, you need to check for extra spaces. If you have extra spaces left inside your camping bag, you need to fill it up from what you plan to leave behind.
These can be items that did not make the list but could be needed during your trip. An example is extra clothing. Since you have space left, take some extra clothes, underwear and use them to fill the space that you have left.
Clothing should be picked before other heavy items because they are lighter. Also, make sure you are not using any pointy items to fill in space.
Pointy and sharp items can easily poke your back and make carrying your backpack very painful.


3. Test Your Camping Backpack Out
After packing and putting everything into your backpack, It is time to test out what you have done. If you followed this guide from the beginning, you should have done a very good job.
Put everything you need together and check the weight. Is the resulting weight something you can bear on your back without giving yourself any sort of discomfort?
A very practical way to make sure you have the perfect load weight on your back is to load all your items, walk down a few blocks from your home, and make a conclusion. This is usually enough to decide if you are carrying too much or too little load.
Too heavy after walking down a few blocks? Cut down more load. Too light after the short stroll? Take up more items and put them into your backpack.
Wrapping it Up
As a side note, carrying excess weight on the back is a very bad idea and poses a potential risk to your health. The spinal cord to be specific. A good way to avoid this health hazard as a camper is to pack your camping bags properly.
If you have been experiencing back pains due to heavy load lifting, make sure to visit your physician or doctor for possible treatments.
There you have it, an effective way to pack a camping backpack for your camping trip. As a parting note, ensure that you do not carry too much weight on your back.
What ideas do you use to pack your camping bags? Share them below.
📫 Related Blog Posts : 
📌 How to Perfectly Wash a Backpack: The 8 Indispensable Steps
📌 The Secret Difference: A Story of Backpacks, Rucksacks & Knapsacks
📌 How to Clean and Care for Leather Bags and Backpacks?
---